Welcome to Bardo Road Kindergarten
NO Vacancies in 2022 - Please get your waitlist forms in for 2023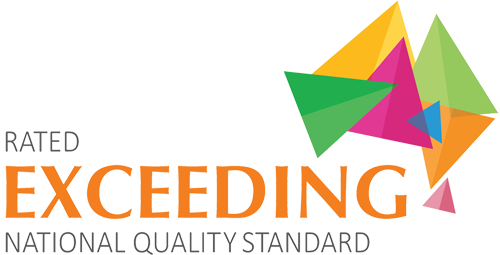 Bardo Road Kindergarten is rated as "EXCEEDING" National Quality Standards
Bardo Road Kindergarten is privately owned and operated by Amy and Brendan Cuss. This kindergarten has been a part of the Newport local community for many years and is very well known for its homely / nurturing environment.
Bardo Road Kindergarten has always maintained high standards of child care. We believe that the early years of a child's life are their most influential. It is within these years that a child develops the foundational skills and abilities that will carry them through life. We are committed to the development of all the children attending Bardo Road Kindergarten.
Our curriculum is focused on the 'Early Years Learning Framework' (EYLF) and all of the Educators at Bardo Road Kindergarten are actively involved in program development, observation, and goal setting. The Becoming, Being, and Belonging philosophy underpins our daily program which supports the children in developing a strong sense of self worth and identity.
Our mission is to protect and cherish the innocence of children by providing a safe and supportive learning environment. We will work in partnership with families to provide developmentally appropriate programs which recognise, respect, value, and appreciate the uniqueness of the children. We will actively encourage all children in all areas of their development.
Testimonials
Just a quick thank you for the wonderful mothers day morning tea and the gifts the children made. A lot of effort and time went into them and it was really appreciated. Have a fantastic mothers day.

Thankyou beautiful Ladies for preparing my boy for school. I could not have asked for more caring and special ladies.

Its been 10 years since our first precious child walked through the doors of Bardo Road Kindy to embark on the beginning of her pre-school life and educational journey. 5 children later, and after 10 mothers days morning teas, 10 father's day morning tea's, numerous PJ days, countless crazy hair days, 1000's of amazing artworks and craft projects, multiple stories of visiting reptiles, the "birth" of around 100 baby chickens, listening to the sirens and stories of the visiting firemen, returning 100's if not 1000's of balls and hoops and escaping artwork from over the fence which of course we will continue to do, being in the audience of 10 beautiful Christmas concerts and of course enjoying 5 unforgettable Kindy graduations…we would like to say an enormous THANK YOU to all for giving our 5 children the best pre-school education both they, and we could ever wish for. You have given all of them the most nurturing, supportive, secure, loving, creative, fun, rewarding and enjoyable experience at Bardo Road Kindy that we will not only cherish, but hugely appreciate as a wonderful foundation for the development and education. It has been said that it takes a big heart to shape little minds. Thank you all for your big hearts for our children.

A heart felt thank you for friendship, and support you all have given our family over the years, but mostly for the wonderful care and love you have shown our children. Thank you for the foundations you have given each of the children as they embark into school life. Both of us are just so grateful to have had the pleasure of being a part of the Bardo Road Kindy family. We will miss seeing you all, but will look forward to seeing you all around town.

Today is quite sad as this is the end of our 6 years of being part of Bardo Road Kindergarten. Your love created an amazing place for the kids to grow and learn and we are very grateful to have had to opportunity to be part of it. All 3 of my children have loved their time with you and we will always hold those memories close to our hearts. Thank you do much for everything.

Bardo Road Kindy is a wonderful Kindy, with nurturing and caring Educators, and a wonderful indoor outdoor learning and play facility. With so many wonderful activities on offer, and changing daily, my Daughter is always so excited to attend. Starting, and ending the day with smiles, my Daughter loves to recall the day's adventures had at Kindy. The Educators are truly wonderful and to be commended. My Daughter has learnt her ABC and numbers, but she has also learnt such valuable life lessons in humanity and caring for others, as well as our environment. For that I am truly grateful. Bardo Road Kindy is a brilliant community Kindy and I highly recommend it!

My twin boys have flourished since going to Bardo, they were such shy sensitive little boys when we first started but with the support and love of the amazing teachers they are now confident approachable boys who love going to kindy! We have meet such great friends through Bardo. The kindy space is wonderful. It's spacious but small enough to feel like a home. Bardo Road Kindy feels like family. We are so grateful that our boys go there.